01 Feb 2021 - 14 Feb 2021

07 Feb 2021

14 Feb 2021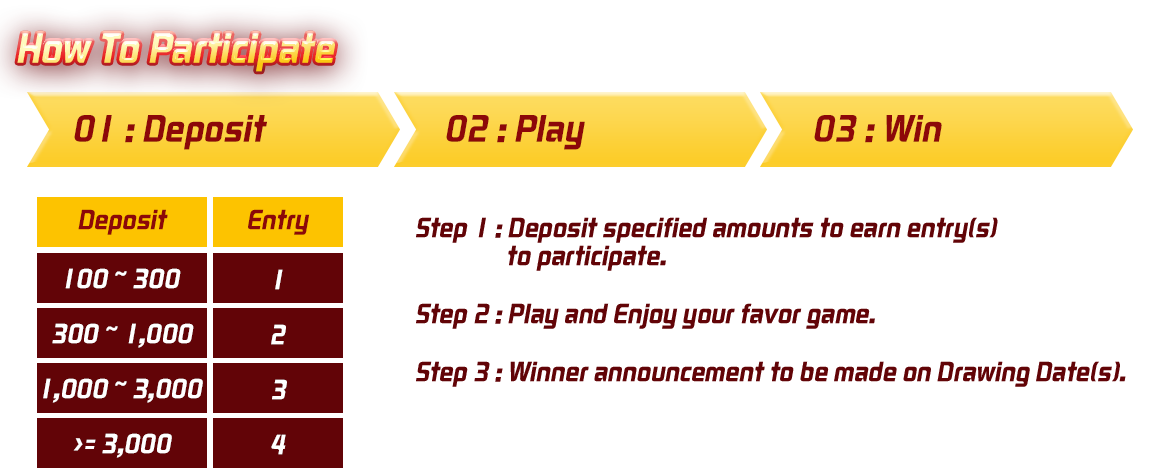 | | | | |
| --- | --- | --- | --- |
| Date | Deposit | Entry | Ticket No |

| | |
| --- | --- |
| Prize | Winning |
| 1st Prize | RM 800 |
| 2nd Prize | RM 500 |
| 3rd Prize | RM 300 |
| Special | RM 150 |
| Consolations | RM 50 |


1st Prize

3389

2nd Prize

7888

3rd Prize

5337
SPECIAL
4784

0442

1053

5220

6786

9906

3064

7564

0189

9443
CONSOLATION
6646

5336

8422

2457

6757

8656

7753

2647

3599

8897

1st Prize

9701

2nd Prize

2881

3rd Prize

0361
SPECIAL
4779

5494

4967

3270

5338

0197

8141

3428

8607

1037
CONSOLATION
6852

0681

8254

0351

6625

9365

6179

1770

8020

6396

1st Prize

3524

2nd Prize

9510

3rd Prize

1655
SPECIAL
0158

1134

1741

3687

4557

5768

7612

8527

9733

9762
CONSOLATION
2125

3017

3672

4395

4842

5186

5698

5768

6675

6852

1st Prize

2478

2nd Prize

7044

3rd Prize

7391
SPECIAL
7785

7415

1170

9699

3812

6927

6701

2181

5939

6564
CONSOLATION
0501

1402

7268

1538

6629

1913

2894

2255

5792

9029

1st Prize

8100

2nd Prize

1550

3rd Prize

3743
SPECIAL
5292

8573

7007

4442

2190

2603

2714

9149

3027

0493
CONSOLATION
0800

2799

8210

5935

4113

3804

9453

1087

3497

0791

1st Prize

4941

2nd Prize

7712

3rd Prize

7036
SPECIAL
0163

0467

1009

1168

1870

2807

2917

3291

3786

7154
CONSOLATION
0278

1601

3606

3992

4121

4601

5468

6226

7555

8328
Campaign: Niu Year! Niu Huat! Deposit & Win Prizes total worth Up to RM40, 000*
What is TruePay?
- TruePay is a payment gateway to provide members with better and more secure platform to deposit.
Promotion Period

| Start Date | End Date |
| --- | --- |
| 01/02/2021 (00:00) | 14/02/2021 (19:00) |

Eligibility and Qualifying Criteria

This Promotion is open to all members who deposit via TruePay Accounts ONLY;
The eligibility requirements to participate in this Promotion are as follows:

| Deposit | Entry |
| --- | --- |
| 100 ~ 300 | 1 |
| 300 ~ 1,000 | 2 |
| 1,000 ~ 3,000 | 3 |
| >=3,000 | 4 |

Participants' that hold any accounts with the Participating Merchant that are terminated, suspended, cancelled or dormant within the Promotion Period until the redemption of Prizes would NOT be eligible;
Participants' will be notified on participation for this evens upon deposit successful. Sample of Notification as follow:
"You are successfully to participate for the lucky draw. For further information, please click User's Page."
Participants' can check his total entries for this lucky draw in the link provided under User's page located in Event page.
Participants are also required to refer to each Participating Merchant's Additional Terms and Conditions as specified in the respective Participating Merchant's website (if any);

Prizes

| Prizes | Winning |
| --- | --- |
| 1st Prize | RM 800 |
| 2nd Prize | RM 500 |
| 3rd Prize | RM 300 |
| Special | RM 150 |
| Consolations | RM 50 |

Lucky Draw Mechanism

For every successful deposits, system will randomly generated a 4digit unique Numbers for each entry. These 4 digit numbers will be use as ticket for lucky draw.

| | Draw Date & Time | Last Deposit Accepted |
| --- | --- | --- |
| 1st Draw Date | 07/02/2021 (19:01) | 07/02/2021 (19:00) |
| 2nd Draw Date | 14/02/2021 (19:01) | 14/02/2021 (19:00) |

The result announcement method will use the official results of Magnum, Toto & Singapore 4D Winning Numbers announcement on 07 Feb 2021 and 14 Feb 2021.
All the tickets that match the announced Magnum, Toto & Singapore 4D result on 07 Feb 2021 and 14 Feb 2021 will be our Final winners for this lucky draw event.
In the event of any of the selected 4D Company ceased operation, Truepay will have the right to replace the result drawing with another active official 4D company (i.e. Singapore 4D, Sarawak Special CashSweep 4D)without any advance notice given.
If due to pandemic and MCO 2.0, ALL 4D Company need to ceased operation, Truepay will postpone the drawing date until further notice.
The results will showed in the RESULT Page will be the FINAL winners for this lucky draw event.

Shortlisting of Winners

Selected winner(s) can check the Lucky draw results (LIVE) in the Results on the landing page.
Besides, Winners also will be notified on his/her lucky winnings in User's page and their winning ticket will be highlighted after 1days from the drawing date.

Prize Redemption

The Selected Winners shall liaise directly with their respective Participating Merchants on all matters relating to the Prizes.
Selected winners required to contact merchants via merchants' customer service channel within 5days from the winners' announcement date (8th Feb 2021 & 15th Feb 2021).
The selected winners required to provide their details to their relevant merchants for verification to ease for the prizes redemption
Details:

User's ID
Winning ticket numbers (4 digits) with screenshot in the User's Page (highlighted winning numbers)

If selected winners unable to contact merchants to claim the prizes within 5days, winners are deemed self-surrender for the prizes.
The verification process will take 2working days to be done.
After verification done, Merchants will direct credit the winning Prizes amount into selected winners' accounts wallet within 1day.